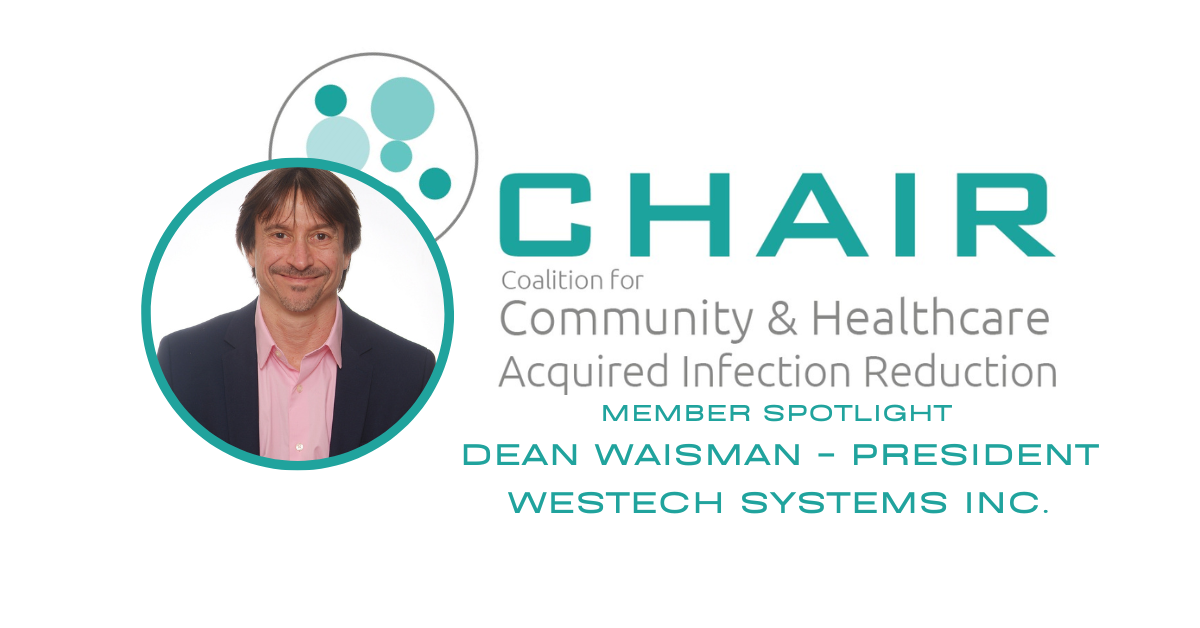 CHAIR would like to take a moment each month to recognize the hard work of our members and shine a spotlight on their projects, accomplishments, and contributions to the community. 
This month we would like to take a moment to recognize Dean Waisman from Westech.

Westech is a firm that provides impartial, unannounced independent housekeeping audits and is acutely aware of our independent position. Westech' s mission is to provide our clients with best-in-class cleaning auditing systems and services to reduce the spread of infection, create safer working and patient environments, and improve staff morale – all while improving the bottom line. The key elements of our cleanliness auditing services are audit standards, certification training, technology, and independent audits.
Dean Waisman is the President of Westech Cleaning Audit Systems and has over 25 years of experience implementing, improving, and inspiring change in facilities across Canada through the Westech Cleaning Audit Systems. Dean is extremely proud that Westech' s Audit System is being utilized by hospitals, educational facilities and other companies to maintain the highest cleanliness standards in Canada. 
We wanted to sit down and get to know Dean a little bit more and here is what we learned.
Describe yourself in three words: Simple, Playful, Fair
If you could choose one superpower, what would it be? Being able to fly
Who are three people (alive or dead) you would like to have dinner with? 
Wayne Gretzky,  Volodymyr Zelenskyy, Animal from the Muppets.
If you won the lottery, what would you do first? Give away a good chunk to my favorite charity.
What are you most excited about right now? Happy Hour is only one hour away as I write this.

What is the best advice you have ever received? To remember to love and respect the ones you are closest too on a daily basis.
 
What is the worst advice you have ever received? My grandmother told me to not go in water over my knees.

What is one question you wish people would ask you more? What is your favorite food?
What is one question you wish people would ask you less? Why are you a Canucks fan?  
If you could switch lives with any one person for one day, who would you choose? Elias Pettersson from the Canucks on a game day.
Dean is one fun hockey-loving, happy-hour-enjoying, heartfelt guy, and we are happy to have him and Westech apart of our organization.
To learn more about Westech, please contact Dean at 604-630-9715 or [email protected]
Member spotlight is a benefit to being a Member. If you would like to be highlighted contact us.